An Orthosis is any device used to realign the body, providing support or restoring lost function.
Prescribed orthotic insoles successfully reduce pain, improve bio-mechanical function by correcting abnormal joint alignment, protecting you from further injury and allowing you to continue the sport or activity you love.  Think of them as the scaffolding that holds a flagpole upright while the cement hardens.  Orthotic insoles are only prescribed in conjunction with exercises to improve your muscular control and balance.
Offloading key painful areas of your feet through pressure redistribution results in increased walking and activity.
Just like prescription spectacles, each orthotic insole is designed to providing the appropriate level of correction to reflect the needs of each foot.
See FAQ for additional information.
Custom-made  Carbon Fibre Composite Orthotic Insoles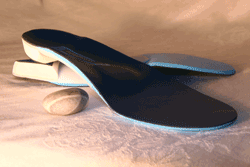 These high specification insoles are recommended as a long term treatment option as they offer maximum foot control giving shock absorbency, comfort and dynamic flexibility making them the product of choice for the most active individuals.  These are perfect for running, tennis, hill walking, badminton, rugby, football and many more fatiguing sports.  In use they hug your feet, feel springy, and supportive giving bounce and lift to each step. Their force of control and correction will be tailored exactly to your needs. Modular orthotic insoles, below, are occasionally used as a 1st line intervention when custom carbon orthotic insoles have never previously been used.
Each unique prescription is custom fabricated for accuracy and repeatability in a local Bristol laboratory and take approximately 1 month to fabricate .  The soft coverings are warranted for 6 months for normal wear and tear and the rigid carbon shell has a warranty against breakage for 18months. Their normal life expectancy in use for most foot conditions will be approximately 3 years but do often last a lot longer.  It is expected to see foot posture to improve with treatment and exercise, and that any future pairs ordered are not simply copied and remade but that new moulds and an updated prescription taken.  With this in mind, annual reviews are recommended.
Each insole is easily swapped between old and new footwear, although custom-made insoles designed for running and sport will generally not be suitable for use in regular/day shoes.  Custom insoles are available for slim fitting footwear and are specially designed to provide the maximum support within low volume high heeled footwear up to a heel height of 70mm.
Styles available –
Cobra Ultra low profile  – Short length & thinnest option for work and higher heels but not the most supportive option
Slim Short length  – Still short length but with more support for low heeled work shoes
Daily style – Full length insole to suit most shoes with removable foot beds giving greater support
Sport Style – Full length with extra cushioning and maximum support for the most fatiguing activities
Modular Orthotic Insole  – Thin, Flexible Construction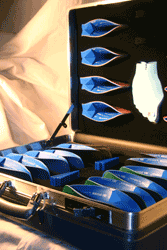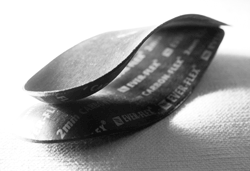 These are a less expensive slightly more comfortable but less controlling option to consider. Comprising of a highly flexible  pre-fabricated shell and comfortable shock absorbing coverings, these excellent insoles move dynamically with your feet, responding to the surfaces you are moving over, allowing a natural gait and guiding your feet in a more gentle way.  These are particularly suited for individuals whose feet require only gentle guidance.
Each insole is hand made in a local Bristol laboratory and tailored to suit your specific requirements and take approximately 2 weeks to fabricate for you. These are carefullly assessed in clinic and sophisticated assessment kits allow you to "try before you buy".  These work well within a scaled treatment plan where a custom made carbon Fibre orthotic insole may be thought initially too stiff or controlling as a 1st line option, giving more of a graduated start.